We often drink alcoholic beverages periodically. According to research, a small quantity of alcohol is actually good for overall health. However, people who are trying to lose weight or are on a low carb diet will find it difficult to handle alcoholic beverages due to the high carbohydrates and sugar in alcohol.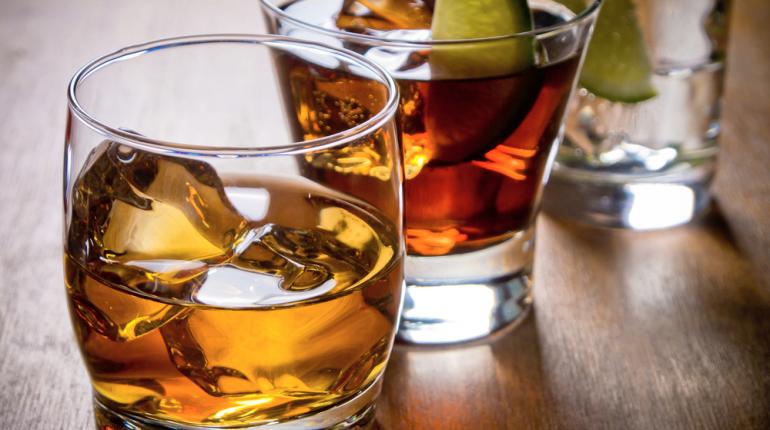 Carbs and Sugar in Alcohol
Alcohol is calorie rich beverage without any nutritional content. One gram of pure alcohol contains 7 calories, whereas one gram of carbohydrates contains 4 calories. Moreover, our bodies have a tendency to regard alcohol in a different manner than other forms of carbohydrates; our bodies utilize alcohol first as source energy before using carbohydrates or fats.
Many low-carb diets recommend avoiding alcohol in any form. This is due to the fact that depending upon the type and amount of drink a person has taken, the carbs and sugar in alcohol can cause erratic changes in the blood sugar levels. Alcoholic beverages are fermented beverages and are made from a high carbohydrate plant such as grapes, sugarcane, berries etc or a grain. The yeast utilizes the carbohydrate and produces alcohol during the process of fermentation and distillation. The carbohydrate content of the alcoholic beverage comes from whatever amount of sugar that is left, which differs in each type of alcoholic beverage. For example, there is small amount of sugar present in dry wine, in comparison to sweet wine, which has a considerable amount of sugar in it. Similarly liqueurs have high quantities of sugar added in them making their carbohydrate content high.
Different alcohols vary in content. Following is a table showing the amount of carbs and sugar in alcohol:
Alcohol

Serving Size

Type

Net Carb (g)

Sugar (g)

Total Carb (g)

Beer

1 can or bottle

Regular Beer

12.64

-

12.64

Light Beer

5.81

0.32

5.81

Wine

5 fl oz.

Red Wine

3.84

0.91

3.84

White Wine

3.82

1.41

3.82

Table Wine

4.03

1.17

4.03

1 glass

Champagne

2.80

0.81

2.80

Spirits

1 shot or jigger 1.5 fl oz

Bourbon

0.04

-

0.04

Brandy

-

-

-

Gin

-

-

-

Rum

-

-

-

Tequila

-

-

-

Vodka

-

-

-

Whiskey

0.04

-

0.04

Mixed Drinks

1 cocktail

Bourbon and Soda

0.05

-

0.05

Gin and Tonic

15.77

14.96

15.77

Rum and Cola

15.12

12.87

15.32

Scotch and Soda

0.04

-

0.04

Popular

Cocktails

1 cocktail

Blood Marry

4.48

3.60

4.88

Caipirinha

14.52

9.65

16.62

Cape Cod

12.86

11.30

12.86

Daiquiri

4.11

3.38

4.21

Grasshopper

15.31

14.06

15.31

High Ball

0.05

-

0.05

Kamikaze

15.30

13.70

15.40

Long Island Iced Tea

9.87

8.70

9.87

Mai Tai

29.76

24.78

29.76

Manhattan

2.07

1.15

2.07

Margarita

10.57

9.82

10.67

Mint Julep

4.21

4.16

4.21

Mojito

24.44

23.47

24.94

Seabreeze

19.86

17.75

19.86

Screwdriver

18.09

14.36

18.49

Tequila Sunrise

14.57

11.21

14.77

Others

1 glass

Liqueur

8.84

8.80

8.84

1 punch cup

Alcoholic Fruit Punch

7.85

5.88

7.85

1 drink

Sangria

22.39

19.08

22.59
No-Sugar and No-Carbs Alcohol
As we can see in the above table, hard liquor such as brandy, gin, rum etc have no-sugar and no-carbs. Let us discuss some of these no-sugar and no-carbs alcohol.
Brandy.

 

Brandy contains no-carbs. Brandy is a type of distilled wine, and is made by the fermentation and distillation of a grape product. During the process of fermentation, the sugars of grapes are consumed by the yeast and converted into alcohol and carbon dioxide. By the time brandy is made by the process of distillation and fermentation, there is no sugar left in it, making it a wonderful low-carb drink. The alcohol content of brandy is usually 35-60% by volume.
Gin.

 

Gin is produced from a grain as a base and is usually flavored using juniper berries. It contains 35% of alcohol by volume. There are no-carbs and no-sugar present in straight gin. However, the cocktails of gin such as gin and tonic have considerable amounts of carbs and sugars.
Rum.

 

Rum is produced from sugarcane or molasses and contains no-sugar and no-carbs. There are various types of rum available such as amber rum, white rum, spiced rum, dark rum and aged rum. The rum gets darker in color as it gets older. Average rum contains 35% of alcohol by volume. Flavored rums should be avoided as they may contain added sugars.
Vodka.

 

Vodka is produced from a grain base such as wheat, rye or potatoes. Its alcohol content varies from 35-50% by volume. Straight vodka has no-carbs and no-sugars. However, flavored vodkas should be avoided as they may contain added sugars.
Whiskey.

 

Whiskey is produced from a fermented grain mash. The grains used are usually barley, wheat, rye or corn. It has no-carbs and no-sugars. The alcohol content is usually 40% by volume. Whiskey is available under different names, depending upon where it is produced and what grain is used to make it.
 Try These Instead!
Most hard alcohol contains no carbohydrates or sugar. So, as long as you are cleared by a doctor to drink alcohol in moderation, including sugar-free alcohol in a low-carb diet is doable.
Since there are no carbs in tequila, all of the calories come from alcohol. In general, a 1-ounce serving of tequila has approximately 64.7 calories, according to the USDA. And like tequila, there are also no carbs in whiskey, so the calories come from alcohol. Some of the more common types of hard alcohol with no sugar or carbs include:
Tequila
Whiskey
Vodka
Gin
Rum
Brandy
That said, staying within the recommended range of moderate drinking is best for overall health. According to the Dietary Guidelines for Americans, moderate drinking for women of legal drinking age is up to one drink per day, and up to two drinks per day for men of legal drinking age.
Anything above the recommended guideline of moderate drinking could have adverse effects, according to the National Institute on Alcohol Abuse and Alcoholism (NIAAA). The NIAAA says that drinking too much alcohol can negatively impact your brain, heart, liver, pancreas and immune system and also points to an association between alcohol drinking and certain types of cancer.
More specifically, the NIAAA states that the more alcohol you drink regularly over time, the higher your risk of developing an alcohol-associated cancer. These cancers include head and neck, esophageal, liver, breast and colorectal cancer.
Read More Here: Sugar and Carbs in Alcohol | Healthcare-Online