Halloween Festive Snack Ideas
by Brittney Casalina
Hey Folks! Need some ideas to treat yourself during the holidays? I have compiled a few yummy recipes to help you with planning Halloween!
For more ideas, click HERE and check out more ITG Diet Recipes!
Custard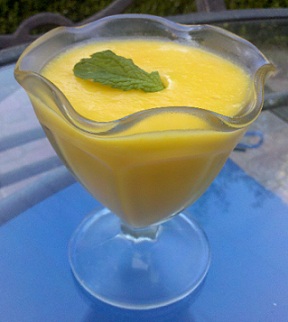 Ingredients
For 4 people (




)
Recipe
2

Dulce De Leche ITG pudding

2

packets of Vanilla ITG pudding

1

egg white

1

dash(es)

real sea salt

dash(es)

pumpkin spice and nutmeg to taste

Custard Directions

Mix all ingredients together and Bake for 20 minutes on 350 degrees then chill for a couple hours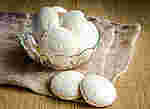 Ingredients
For 4 people (




)
Recipe
3

egg whites

1/4

teaspoon(s)

cream of tarter

1

tablespoon(s)

Walden Farms syrup

8

drop(s)

vanilla cream liquid stevia drops

Barely There Meringues Directions

Preheat oven to 300 degrees F

Line 2 cookie sheets with parchment paper

Using an electric beater, whip at high speed all ingredients until they are stiff

There should be a peak when you pull the beaters out of the bowl

Open piping bag and spoon mixture into the bag

Place parchment paper on to a sheet pan and pipe out your meringue bites

Bake 15 minutes until cookie has a firm texture, on the outside but soft of the inside

Allow cookies to cool and enjoy!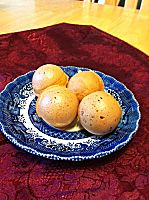 Ingredients
For 4 people (




)
Recipe
2

ITG Chocolate Chip Pancake mix

2

Egg Whites

3

ounce(s)

water

1/8

teaspoon(s)

vanilla extract

1/2

teaspoon(s)

baking powder

1/8

teaspoon(s)

baking soda

1

dash(es)

cream tartar
Stuffing
1

ITG Chocolate Pudding mix

1/2

cup(s)

VERY cold water

Chocolate Chip Cake Pops Directions

Heat cake pop maker.  

Empty 2 packets of ITG chocolate chip pancake mix into a bowl, add Baking powder and baking soda

Next add in the 3 oz of water and the vanilla extract.

In a separate bowl beat the two egg whites incorporating the cream of tartar (a couple of shakes) beat the egg whites until they form peaks.

Fold in the egg whites to your pancake mixture.  Keep folding until the egg whites are blended well.

Now you are ready to put the batter into the cake pop maker either by scooping the batter using a tablespoon or a sandwich bag filled with the batter with the corner snipped off and squeezing the batter into the cake pop molds.

Cook in the cake pop maker for 3 MINUTES

While waiting for the cake pops to bake assemble the pudding of your choice:

Mix 1 ITG chocolate pudding mix with 1/2 cup VERY cold water, you can add more water as needed for creamy consistency. (mix in a plastic bottle with a "squirt" nozzle, dollar store) using scissors, snip the plastic lid to widen opening

Remove cake pops when golden brown, pierce puff with nozzle and fill it by squeezing yummy chocolate pudding into puff.

Decorate plate with remaining pudding for dipping, you could also use Walden Farms syrups or fruit spread over the top if you do not want fill the puffs.

Enjoy!
Chocolate Protein Pretzels Directions
Break Chocolate Dream Bar into squares and arrange them on coated/waxy paper plate or microwave-safe dish.

Place in microwave and heat for 30 seconds at a time until melted (about 1.5 minutes total).

Pull plate from microwave and gently press a pretzel down on top of each melted Chocolate Dream square.

Place plate in freezer and allow to cool. Pretzels and Chocolate should come off the plate easily once cold.

Enjoy! The Chocolate Dream is a Limited and Specialty Item (1-2 bars per week), and Pretzel Twists are Non-Limited. Enjoy half a batch for a serving, or a few Chocolate Protein Pretzels at a time during the day for a bite-sized snack!

Alternately, you can dip the entire pretzels in the chocolate to coat fully - place on wax paper and allow to cool completely before removing from freezer.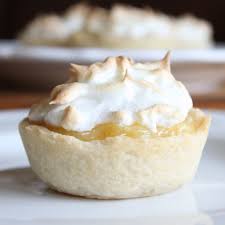 Ingredients
For 1 people (

)
Recipe
Crust:

1

Packet ITG Plain Pancake Mix

1

teaspoon(s)

Pumpkin Pie Seasoning

2

ounce(s)

Water

Pudding Filling:

1

Packet ITG Vanilla Pudding

1

Egg

2

tablespoon(s)

Olive Oil

1

teaspoon(s)

Vanilla

1/2

teaspoon(s)

Nutmeg

1/2

teaspoon(s)

Cinnamon

2

tablespoon(s)

Splenda or Stevia

Meringue:

1

Egg White

3

tablespoon(s)

Splenda or Stevia

1/8

teaspoon(s)

Cream of Tartar

1

teaspoon(s)

Vanilla
Pumpkin Meringue Tart Directions
Heat oven to 425 degrees.

In your shaker mix Crust ingredients.

With Olive oil spray, coat 8-9" diameter skillet and pour mixture in. Cook on medium heat until the pancake has reached a soft pliable texture. You do not want the pancake to be crispy.

In 4-5 inch glass pie pan (These can be picked up at most dollar stores) place the pancake in and shape it like a pie crust.  You can also make smaller.

Next mix Pudding ingredients in your shaker and pour into crust. Bake at 425 degrees for 9 minutes.

While your filling is baking, place meringue ingredients in a bowl and mix until it forms peaks. By varying the amount of sweetener you control how hard or soft the final meringue will be.

Remove filling and crust from oven and spread meringue on while hot.

Reduce oven temperature to 325 degrees and bake for 9 minutes. Meringue should be stiff and have golden brown coloring on peaks.

Let cool and chill before serving. *For an extra added treat, drizzle Walden Farms Caramel Syrup on Meringue.

Credit Recipe & Photo : 3 Fat Chicks
Double Chocolate Protein Cookies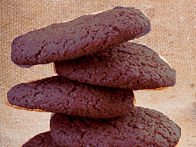 Ingredients
For 1 Servings(s) (

)
Recipe
1

packet ITG Chocolate Fudge Cake

1

teaspoon(s)

Droste cocoa powder

1

teaspoon(s)

grape seed oil

1

tablespoon(s)

almond milk

2

tablespoon(s)

ITG Chocolate RTD Shake

2

tablespoon(s)

liquid egg whites
Double Chocolate Protein Cookies Directions
Preheat oven to 350 degrees

In a medium bowl, mix dry ingredients

Add wet ingredients; stir to mix

Spoon 1 Tbsp of batter onto cookie sheet - makes about 4 cookies - use silicone baking sheet, or use regular baking sheet with non-stick cooking spray

Bake for 10 minutes

Allow to cool, then lightly toast in toaster to give crispier texture outside

Note: Each cookie is 3 carbs - all 4 cookies will count as 1 Limited Item for the day

Thanks to Melita of Best Weight On You in Altamonte Springs, Florida for recipe