Have Fun at Holiday Parties Without Spoiling Your Diet
Posted by Brittney Casalina on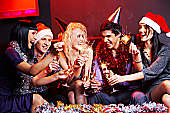 The holidays are upon us once again, and 'tis the season to enjoy spending time with family and friends. There are work parties, family parties, school parties, and so much more going on throughout the month to keep track of. The problem with the holiday parties? Keeping track of all the food you may eat along the way. How can you make sure that the overabundant temptations of candy, cakes, snacks, and wine at each get together won't derail your diet?
First of all, remember that these holiday parties are a time to socialize and spend time with people that you care about; they are not pie-eating contests! Enjoy the conversations, catch up with old friends and family members, and unwind a bit. You've been sticking to your guns, eating healthy, and dropping pounds at a steady pace up until now, so why give up? Here are a few easy tips to help you have fun at the holiday parties this year without sacrificing your diet!
Eat before you leave for the party. This is probably the best tip of all. It will be much easier to avoid the junk food on a full stomach. Make sure to have plenty of vegetables with your lean protein or ITG Diet meal to stay fuller for longer.
Keep your distance from the snack foods and alcohol. By staying away from that dreaded table you will be less tempted to reach mindlessly for cookies and drinks repeatedly. Once you start, you may have a hard time stopping yourself!
Leave your phone in your hand. It may seem a bit strange or maybe even rude, but having something in your hands to fiddle with can keep them busy enough that you will not feel the urge to have a handful of chips there instead. An added benefit of holding your phone in your hand is escaping a dull conversation at an office party!
Bring a healthy snack with you. ITG Diet has chips, bars, shakes and fruit drink mixes that are easily carried in your purse or coat pocket. When the urge arrives and you really want that delicious looking cupcake with frosting, grab your ITG protein bar and enjoy!
---
Share this post
---
---
---
0 comments