Sweet Treat Recipes for the Holidays!
Posted by Brittney Casalina on
Christmas time is almost upon us! I don't know about you all but, I am certainly not ready yet!
To help you all this season I am going to list some of my FAVORITE recipes and snacks for the holidays! I Hope you all enjoy!
 Also, click here to see more delicious recipes from ITG Diet! 
ITG Fruit Danish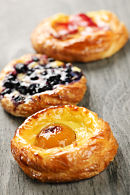 Ingredients
For 2 Servings(s) (


)
Recipe
2

ITG Apple Oatmeal Packets

2

Eggs

1

teaspoon(s)

Baking Powder

1

Stevia Packet

1/2

teaspoon(s)

Cinnamon

3/4

cup(s)

Grated Zucchini

2

tablespoon(s)

Walden Farms Fruit Spread (Apple Butter, Grape Jelly, Strawberry Jelly)
ITG Fruit Danish Directions
Preheat oven to 350.

Beat eggs in a medium bowl.

Add all the other ingredients except fruit spread. Mix thoroughly.

Divide evenly among a 6 count whoopie pan (can use a muffin tin- fill 1/3 of the way) Flatten the batter.

Using a spoon, make a small indentation in the middle of each.

Bake for 10 mins.

Fill each with desired Walden Farms Fruit Spread.
Pudding Popsicles
I like to layer different flavors of puddings like the dark chocolate first, then the vanilla in the middle and chocolate pudding at bottom!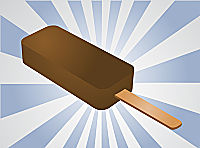 Ingredients
For 2 people (


)
Recipe
2

Packets ITG pudding of your choice

1

Water

1

Ice
Pudding Popsicles Directions
Mix 2 packets of your favorite pudding or drink mix

You may blend with water and ice if preferred

Pour into ice cube tray or popsicle mold

Freeze and enjoy
Ice Cream Sandwich
ITG does not make the Fudge Cake Mix anymore but you can use either the ITG  Plain Pancake Mix or our ITG Chocolate Chip Pancake Mix!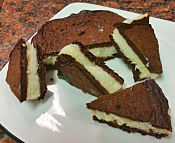 Ingredients
For 2 Servings(s) (


)
Recipe
non-stick cooking spray

1

packet stevia (optional)

1

Packet Chocolate Fudge Cake (or pancake mix)

1

Packet ITG Vanilla Pudding Mix (or any flavor)
Ice Cream Sandwich Directions
In a skillet, cook 2 "pancakes" out of the ITG Chocolate Fudge Cake Mix and place in freezer to chill

Make your choice of ITG Pudding Mix according to instructions (add Splenda - optional)

Spread pudding on one pancake and sandwich the other on top

Place ice cream sandwich back in freezer until frozen and ready to eat

On Step 1 & 2 of the ITG Diet Plan, cut the sandwich in half and enjoy for 2 days! (using 2 packets to make this recipe) - NOTE: this item is Limited

For a twist on the Ice Cream Sandwich, use the ITG Chocolate Chip or Plain Pancake mix to make 2 pancakes and use 1 packet of Very Vanilla Pudding (or any flavor of choice) as the filling

Recipe created by ITG Diet Corporate Wellness Coach Tina Sly
 Chocolate Protein Pretzels 
I love to add big chunks of sea salt on the chocolate pretzels for even better flavors! I have also used the Chocolate and Vanilla Pudding / Shake mixes and make half vanilla and half chocolate pretzels with sea salt! YUM!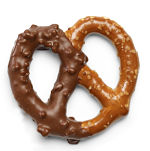 Ingredients
For 2 Servings(s) (


)
Recipe
1

packet ITG Pretzel Twists

1

ITG Chocolate Dream Bar
Chocolate Protein Pretzels Directions
Break Chocolate Dream Bar into squares and arrange them on coated/waxy paper plate or microwave-safe dish.

Place in microwave and heat for 30 seconds at a time until melted (about 1.5 minutes total).

Pull plate from microwave and gently press a pretzel down on top of each melted Chocolate Dream square.

Place plate in freezer and allow to cool. Pretzels and Chocolate should come off the plate easily once cold.

Enjoy! The Chocolate Dream is a Limited and Specialty Item (1-2 bars per week), and Pretzel Twists are Non-Limited. Enjoy half a batch for a serving, or a few Chocolate Protein Pretzels at a time during the day for a bite-sized snack!

Alternately, you can dip the entire pretzels in the chocolate to coat fully - place on wax paper and allow to cool completely before removing from freezer.
Chocolate Chip Puff Cookies
For All Stages of the ITG Diet Plan
You can also add drops of Sweet Leaf's Sweet Drops for additional sweetness and flavor! I also like to add a little bit of the Very Vanilla Pudding Shake Mix for a vanilla taste to the cookies!
Ingredients

For 2 Servings(s) ()

Recipe

1

ITG Chocolate Chip Pancake Packet

1

ITG Maple Brown Sugar Oatmeal

5

tablespoon(s)

Water
Chocolate Chip Puff Cookies Directions
Preheat oven to 350 degrees

In a medium bowl, mix 1 packet of ITG Chocolate Chip Pancake Mix with 1 packet of ITG Maple Brown Sugar Oatmeal

Add 5 tablespoons of water and mix thoroughly. If mix is tacky, add a little extra water at a time until desired cookie dough consistency is reached

Place small scoops of dough 1 inch apart on parchment paper lined cookie sheet

Bake for approximately 10 mins, but keep an eye on them and adjust time as needed

Let cookies cool and enjoy!
---
Share this post
---
---
---
0 comments