Creamy Tomato Pasta
Posted by Brittney Casalina on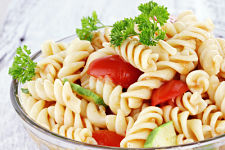 Ingredients
For 1 people (

)
Recipe
Package ITG Pasta

2

 

fl. oz.

 

Skim Milk

1/4

 

cup(s)

 

Tomato, small dice

1

 

Green Onion, chopped

4

 

Asparagus, chopped

1/2

 

cup(s)

 

Spinach

1

 

teaspoon(s)

 

Garlic Powder

1

 

teaspoon(s)

 

Old Bay

1/2

 

teaspoon(s)

 

Cumin

1/8

 

teaspoon(s)

 

Sea Salt and Cracked Black Pepper, to taste

2

 

tablespoon(s)

 

Olive Oil, as needed
Creamy Tomato Pasta Directions
Begin boiling water on stove for pasta. Meanwhile gather your other ingredients and start chopping your vegetables. Remove stems from spinach, chop tomato, green onion, and asparagus.

Cook pasta 5-10 minutes depending on how firm you would like the pasta.

In a sauté pan add your oil. Set stove to medium heat. Add your chopped vegetables and cook 3-4 minutes until asparagus is a bright green.

Reduce heat to low, and add your skim milk to your sauté pan with your vegetables in. Cook until milk is heated/warm. Make sure you do not boil your milk. 

Add pasta to the sauté pan, along with your seasonings and enjoy!
---
Share this post
---
---
---
0 comments