Breadless Stuffing
Posted by Brittney Casalina on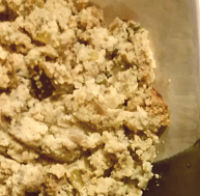 Ingredients
For 4 Servings(s) (




)
Recipe
2

 

tablespoon(s)

 

extra virgin olive oil

1

 

head cauliflower, chopped

1

 

4oz package sliced fresh mushrooms

2

 

garlic cloves, chopped

1/2

 

cup(s)

 

diced celery

1/3

 

cup(s)

 

diced onion

1/2

 

cup(s)

 

Water

1 1/2

 

cubes chicken bouillon

1

 

Egg

2

 

teaspoon(s)

 

dried sage

1

 

teaspoon(s)

 

sea salt

1

 

teaspoon(s)

 

ground black pepper
Breadless Stuffing Directions
Preheat oven to 350 degrees. Grease glass baking dish with cooking spray.

Chop cauliflower into small chunks.

Heat olive oil in large skillet and cook mushrooms, celery, onion and garlic in olive oil for 3-5 minutes. Add bouillon and water, cook and stir until bouillon is dissolved.

Combine cauliflower, egg, sage, salt and pepper in bowl. Note: You may need to slightly overseason as cauliflower taste may be overpowering.

Mix thoroughly. Stir all ingredients together and transfer to prepared baking dish. Cover with aluminum foil.

Bake for 30 minutes. Remove foil and bake for an additional 10-15 minutes.
---
Share this post
---
---
---
0 comments